Team Quest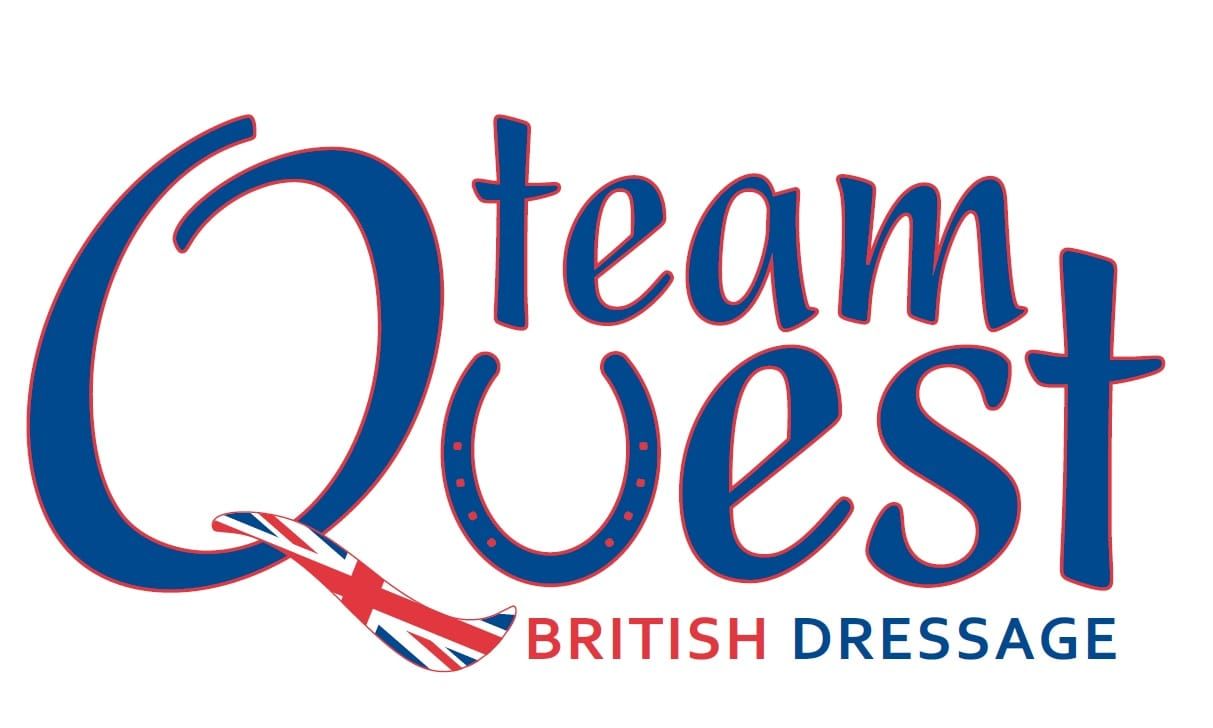 Holsworthy and District Riding Club have two teams that take part in British Dressage's Team Quest.
Trained by Bradley Moore-Taylor, the two teams meet up regularly for lessons and coaching at various venues and then, together as a team, decide what competitions to enter.
There are more opportunities to make another team if people are interested, it is a great way to make new friends as well as train together and compete together.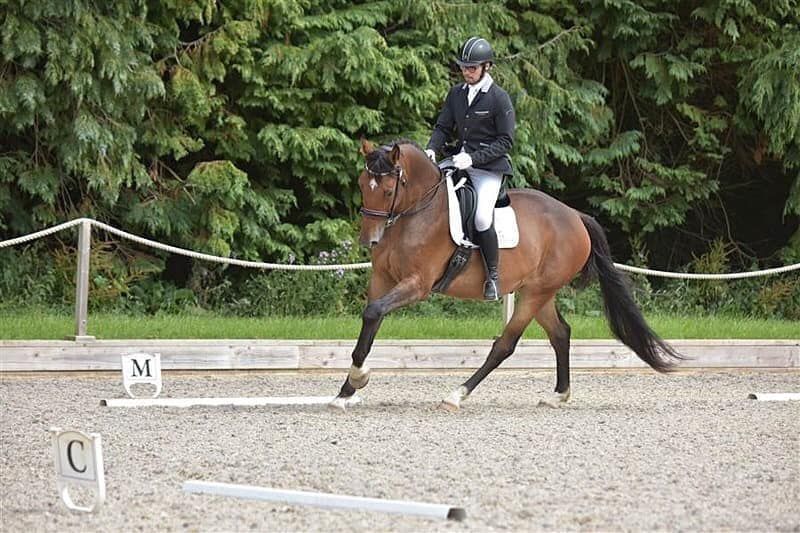 Bradley Moore-Taylor competes at BD with two horses and is based at Duchy College, Cornwall.

He set up the two teams, Ruby Dancers and Ruby Rascals, with the aim of getting riders and horses together and growing in confidence.
Training will continue through the year at competitive rates both at Little Lopthorne and at members venues. Bradley is on hand at most competitions to support rider nerves, help warm up combinations, call dressage tests and offer advice.
Bradley explained an opportunity like this is great as it allows like-minded individuals to come together and compete as a team which is great for motivation, competition nerves and offers some normality to horse and rider combinations.
If you would like to get involved and be part of a supporting team drop us a message and unlock your competitive edge!

HDRC Team Quest results & reports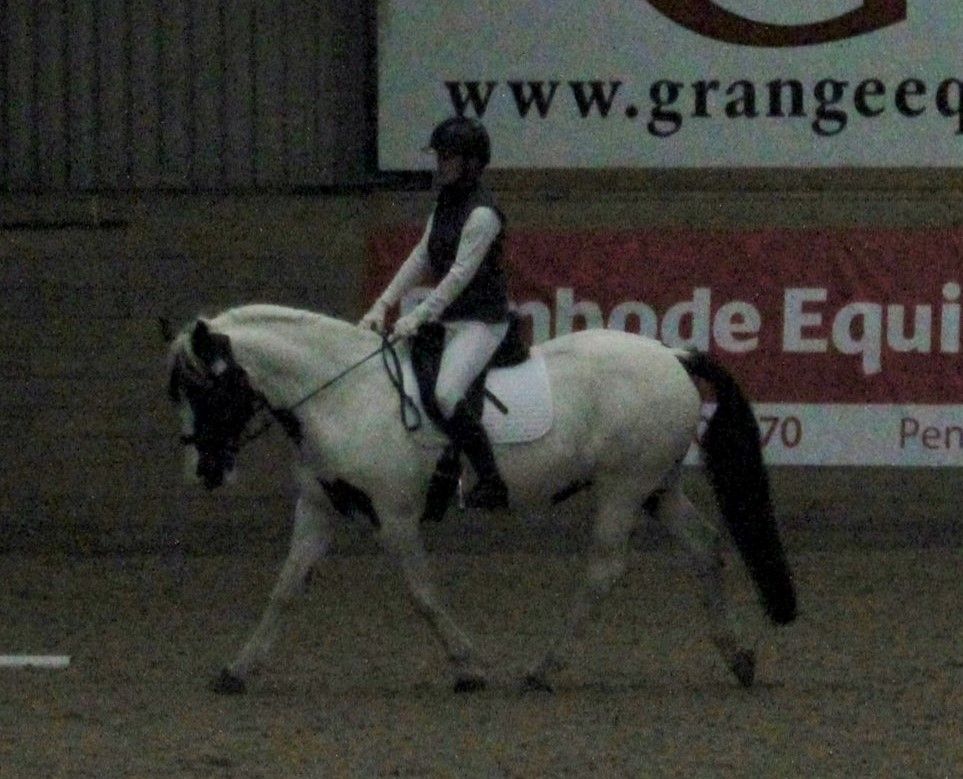 Since the lockdown restrictions eased enough for us to compete again, the two Holsworthy Quest teams, Garland Ruby Dancers and Garlands Ruby Rascals, were able to get out and earn a few more points!
They have now completed their last qualifiers for the Regional Championships in Chard on 3rd/4th October .Now we just have to wait and see if we are knocked off the leader board in the last 6 days left for qualifying.
Currently in the South West, Ruby Dancers are lying in 8th with 48 points, and Ruby Rascals in 12th with 46 points. The top 15 Teams qualify. We'll have a few My Quest entries too hopefully (Top 20 qualify)
In intro: Lisa Nethacott 3rd
In prelim: Gemma Stokes 2nd Gill Fowler 10th Kate Garrett 11th Harriet Bristow 18th
In Novice: Sarah Warman 5th
In under 21 Prelim - Abby Wade 13th
14th March 2020 The Grange Equestrian Centre
The Garlands Ruby Dancers team Abby Wade, Gemma Stokes, Kate Garratt and Gill Fowler, headed to The Grange for Team Quest, accompanied by one Ruby Rascal.
The teams came 4th and 5th respectively and the individual placings were Gemma Stokes 3rd in the MyQuest open prelim and Abby Wade 1st MyQuest U21 prelim.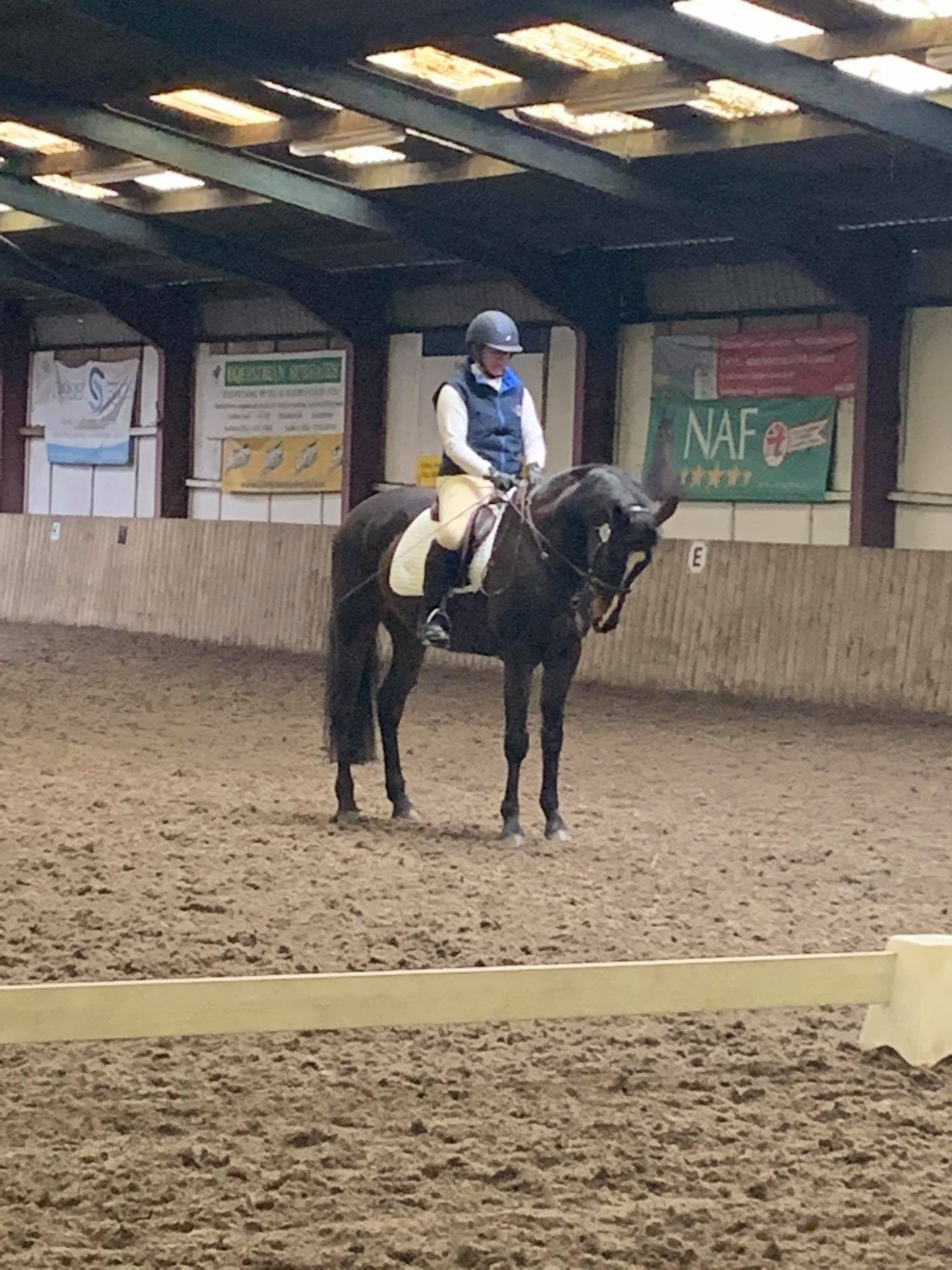 1st March 2020 Tall Trees Arena
Today, team Garlands Ruby Dancers and Garlands Ruby Rascals headed to Tall Trees for Team Quest. Garlands Ruby Dancers, represented by Sarah Warman, Kate Garrett and Harriet Bristow had a fantastic day winning as a team as well as having individual placings in both prelim classes.

Sarah and Jethro S won the MyQuest prelim class with a score of 69.66% and scored 73.27% in the TeamQuest which helped win the TeamQuest. Kate and Bodmin Daisy scored 67.07% in MyQuest which put them joint 5th and scored 68.85% in TeamQuest which helped win the TQ. Harriet and Maddie scored 66.21% in the MyQuest and scoring a fantastic 74.42% in the TQ which secured the team win.
Garlands Ruby Rascals, represented by Gill Folwer, Judi Faulkner and Lara Holland had an equally great day with scorings and placings. Gill and Endless Dream scored 69.48% which put them in 2nd place in the MyQuest prelim class. They also scored 71.35% in the TeamQuest prelim class which helped the team secure 3rd place.
Judi Faulkner and Henna scored 62.17% in the MyQuest Intro class which put them in 5th place. They also scored 65.87% in the TeamQuest Intro class which helped them secure 3rd place. Lara Holland and Holcombes Huff 'N' Puff scored 63.04% in the MyQuest Intro class which put them in 4th place. They also scored 61.96% in the TeamQuest Into class which helped them secure 3rd place.
Well done to both teams!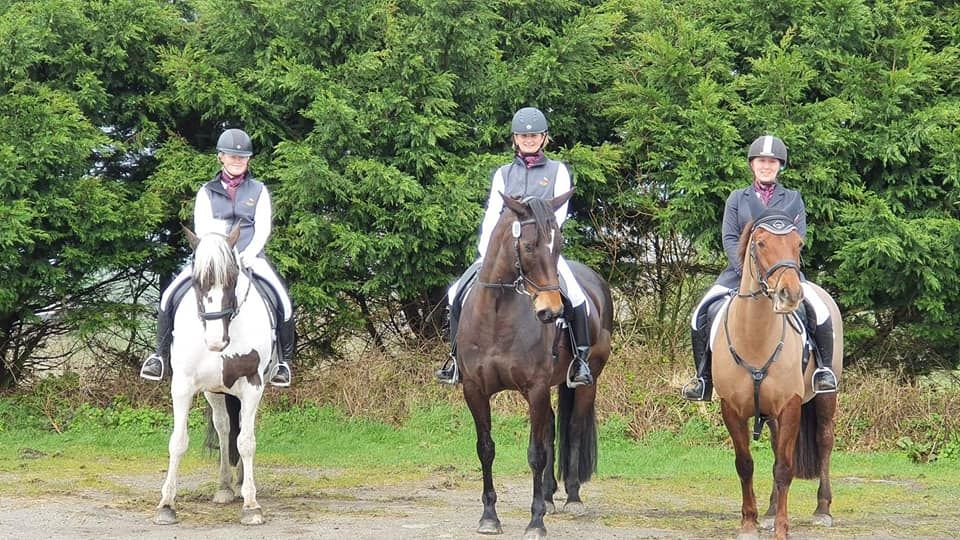 23rd February 2020 Colraine Equestrian Centre
The Garlands Ruby Dancers team of Gemma Stokes, Abby Wade and Harriet Bristow made their way to Colraine Equestrian Centre for today's Team Quest.
Harriet and Maddie won their individual class with over 69% and in the Team Quest scored a 70% to help the team come 2nd. Abby with Claddagh Judy also scored a 69% in the Team Quest.
Gemma Stokes with Elita Maidens Walk scored 66% individually and 67% in the Team Quest, all three riders and horses helping the team secure 2nd place.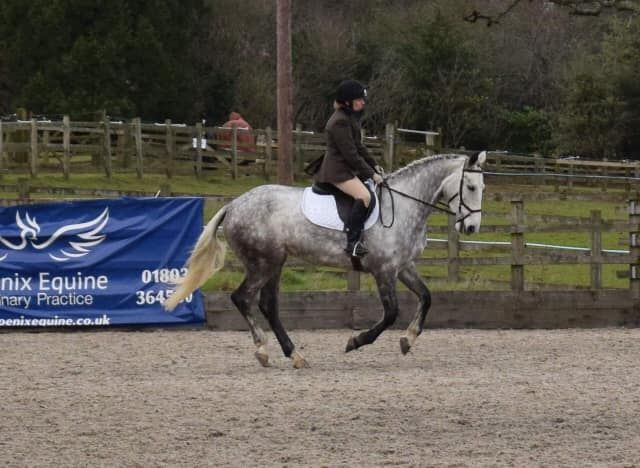 9th February 2020 Bicton College
The Garlands Ruby Dancers went to Bicton college for their 3rd Team Quest competition!
The team this time was Gemma Stoke, Harriet Bristow, Kate Garrett (pictured on Bodmin Daisy) and Abby Wade. Everyone entered both the MyQuest and Team quest prelim classes.
Unfortunately Abby's horse had to withdraw the night before, but Abby was still able to take part in the Team Quest class as she borrowed Harriet's horse Maddie!
Everyone did exceptionally well with Gemma, Harriet and Kate taking 1st, 2nd and 3rd in My Quest and then the team taking 1st place in The Team Quest class. Abby had never sat on Maddie before the competition and did a brilliant job riding her.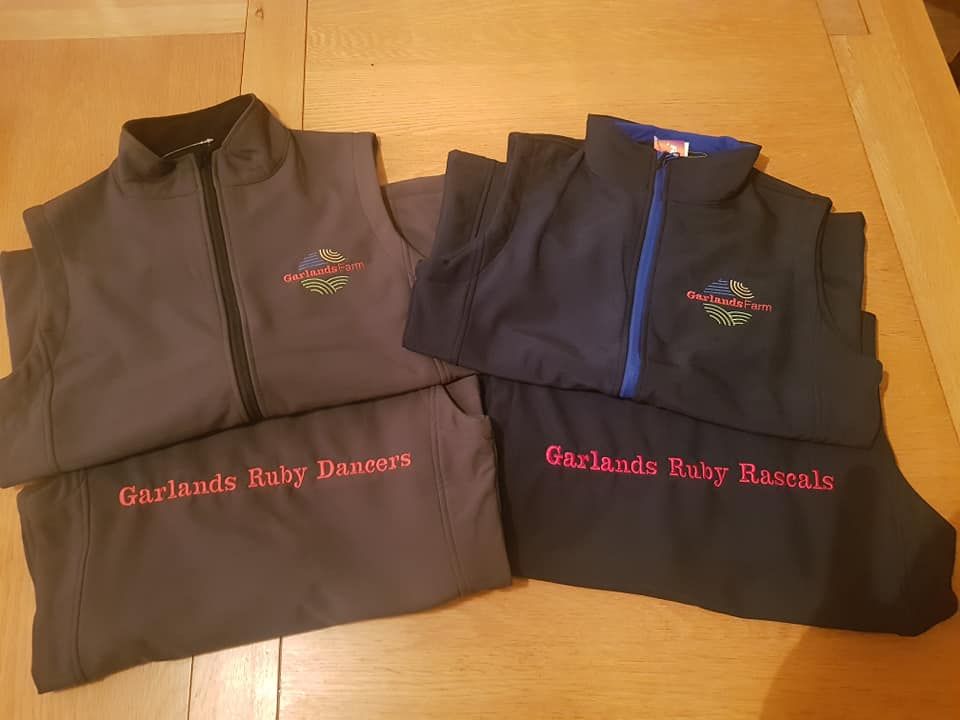 15th December 2019 Tall Trees Arena
Following the interest of Team Quest, members came together for a Q&A session at the Bickford Arms. Members were then invited to Garlands Farm to informally test ride at the level they wish to compete.
Once all riders had test ridden teams were allocated and volunteers came forward as team captains. Teams from the club, Garlands Ruby Rascals & Garlands Ruby Dancers, made their debut at Tall Trees Arena on the 15th December 2019.
The team members worked hard to prepare for their first event by attending training with Bradley Moore-Taylor and organising team gilets and numnahs. Team riders presented themselves well and though nervous produced good tests which improved during the second test ride.
All horse and riders combinations looked incredibly smart. It was a quiet competition which allowed riders to experience a competitive setting without the pressures of huge crowds and horses. Competition was tough between both teams with Ruby Dancers taking the crown by small margins.
All riders exceeded their own expectations with riders gaining scores from high 50s-high 60s. Gemma Stokes aboard Elita Maidens Walk produced two consistent tests winning the MyQuest on a score of 67.93%. Sarah Warman rode Jethro S and scored 69.23% the highest placed score of the competition. All riders did a fantastic job each coming away with a rosette and are very much looking forward to 2020.