Results & Reports
Here you will find all the results of our Events, Competitions and Area Qualifiers.
One Day Event results
Dressage results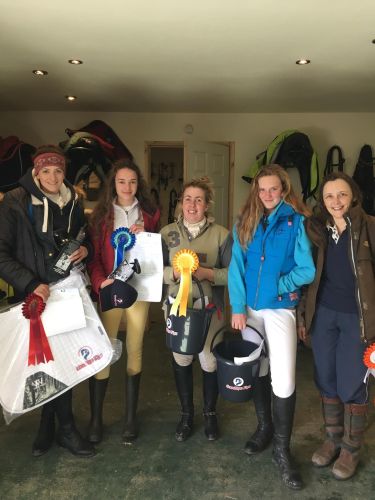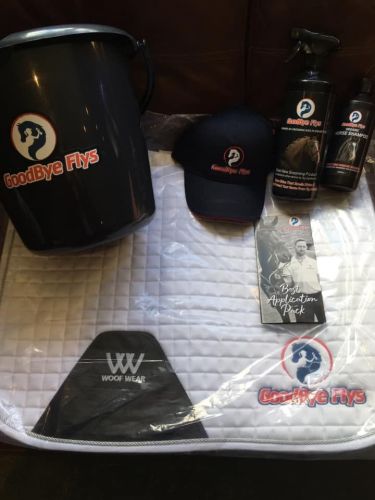 Area qualifier results
AREA COMPETITIONS REPORT 2020

Well this year didn't really go to plan, we started the year with the senior Novice and Intermediate show jumping qualifiers where I did the 80 qualifier as an individual. Jess James took part in the 100 and 110cm qualifier coming 1st and 2nd, Molly Ashcroft ( junior) did the 110cm and won so both qualifying for champs.

I was lucky enough to still go to the Arena eventing championships with Skye to represent HDRC as an individual in the 80cm. Then lockdown came and all the area competitions and championships were cancelled which was a shame as we had some juniors and seniors qualified for the Novice and Intermediate championships in March and April.

Area 19 were able to run a non qualifying dressage team competition in August alongside the Dressage to music area qualifier when the lockdown restrictions had been lifted, we had 2 members have ago at the DTM, Ceri Phipps Hewlett and Kate Rowlands both came 2nd in their classes, Kate was given a wild card to go to the championships in October, Kate travelled to Bury farm to take part.

In the non qualifying competitions we had 5 teams enter we came home with a team 2nd, 3rd and 4th places and everybody came away with individual placings these were made up with senior and junior members.

The next qualifier was the Novice and Intermediate senior dressage competitions, we had 3 teams entered 2 novice and 1 intermediate team, novice teams were 6th and 7th the intermediate team came 3rd, again there were lots of individual placings, Juliette Huckstep won the Intro test.

Arena eventing was due to take place in November but again due to lockdown this was moved to December, we had 4 teams entered and 3 individuals, the 70cm team came 2nd with Abbey Wade coming 6th individually, 90cm seniors was won by Harriet Franklin and qualifying as an individual and the team came 2nd, the 100cm team Essie Barker 3rd, Lizzie Luxton 5th, and Megan Tucker won, also qualifying.

Junior Day took place in December, we had teams in the novice dressage where they came 3rd and 80 sj, where they came 2nd, Miya Johns also won the individual prelim 7 test and 2nd in prelim 2, and 3rd in the 80 SJ, Imogen Gingell was 3rd in Prelim 7 and 5th in the 80sj, Bronte Stevens was 4th in Novice 27 and Daniella was 4th in Novice 24, Daniella and Imogen took part as an area team in the 70 cm coming 2nd and 3rd individually. Miya, Imogen and Daniella qualify for 2021 novice championship.
Well done to everyone who represented HDRC this year in what has been a stop start year and a loss of several area competitions.

If anybody wishes to take part in any area competition please don't hesitate to ask.
Penny Gingell
22nd Frebruary 2020: Molly Ashcroft and her grey Woodfield Five Star, headed to Duchy College for the Area Showjumping Qualifiers to win the 110cm and qualify for the HorseHage & Mollichaff championships at Bury Farm.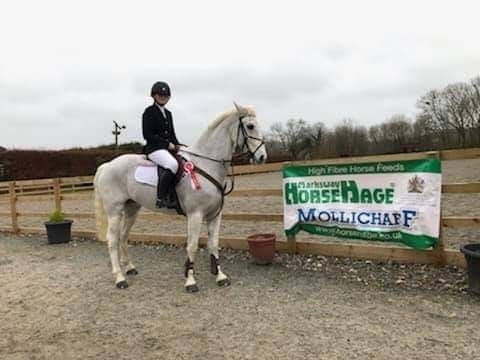 2018/19
We sent 2 teams to the novice winter area dressage at Dutchy on Sunday 4th Feb with the team of Jen Unwin, Diana Stevens, Sue Proudfoot and Amy Cox coming 2nd and Sue winning her arena and qualifying for the Champs at Arena UK.
Our other team of Daph Beasley, Natasha Dayment, April Dawe and Rebecca Jordan came 6th.
A team consiting of Harriet Mitchell, Pippa Stubbs, Sue Proudfoot and Kirtsy Dunkin represented Holsworthy at the novice area Showjumping on Sunday 18th Feb at Dutchy. The team did a fantastic job to finish on 4 faults and come 3rd out of 13 teams.
We sent a Senior intermediate Showjumping team to the intermediate Champs at Bury Farm on Friday 25th April, the team consisting of Megan Lawrence, Torie Sleep, Yas Steven & Rebecca Jordan finished on 12 faults (the course was causing carnage) to finish a fantastic 4th!!
On Sunday 27th the juniors headed up to Bury, where Bronte Stevens, Charlotte Jordan and Theo Funnell competed in the Intermediate Dressage, finishing a 7th with Charlotte and Bronte coming 7th and 9th. Theo and Charlotte then rode as part of an area team in the showjumping with the team finishing 4th and Theo jumping a triple clear to come 3rd.